Richard Lonewolf has had many awards given to him to honor his teaching & services to humanity & several nations.  Some of these include: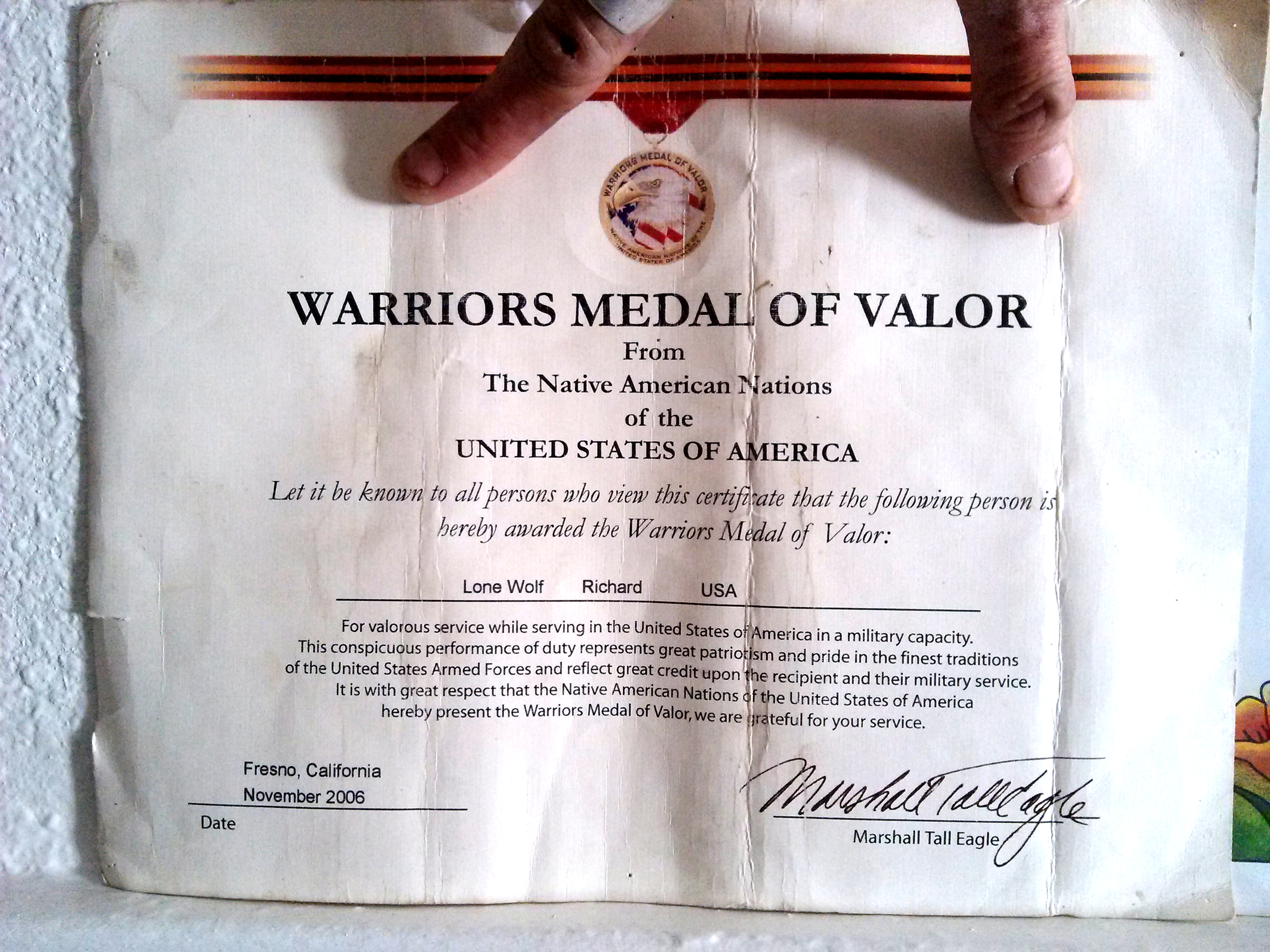 Above:  The Warriors Medal of Valor on behalf of many Native American nations, presented by Marshall Tall Eagle.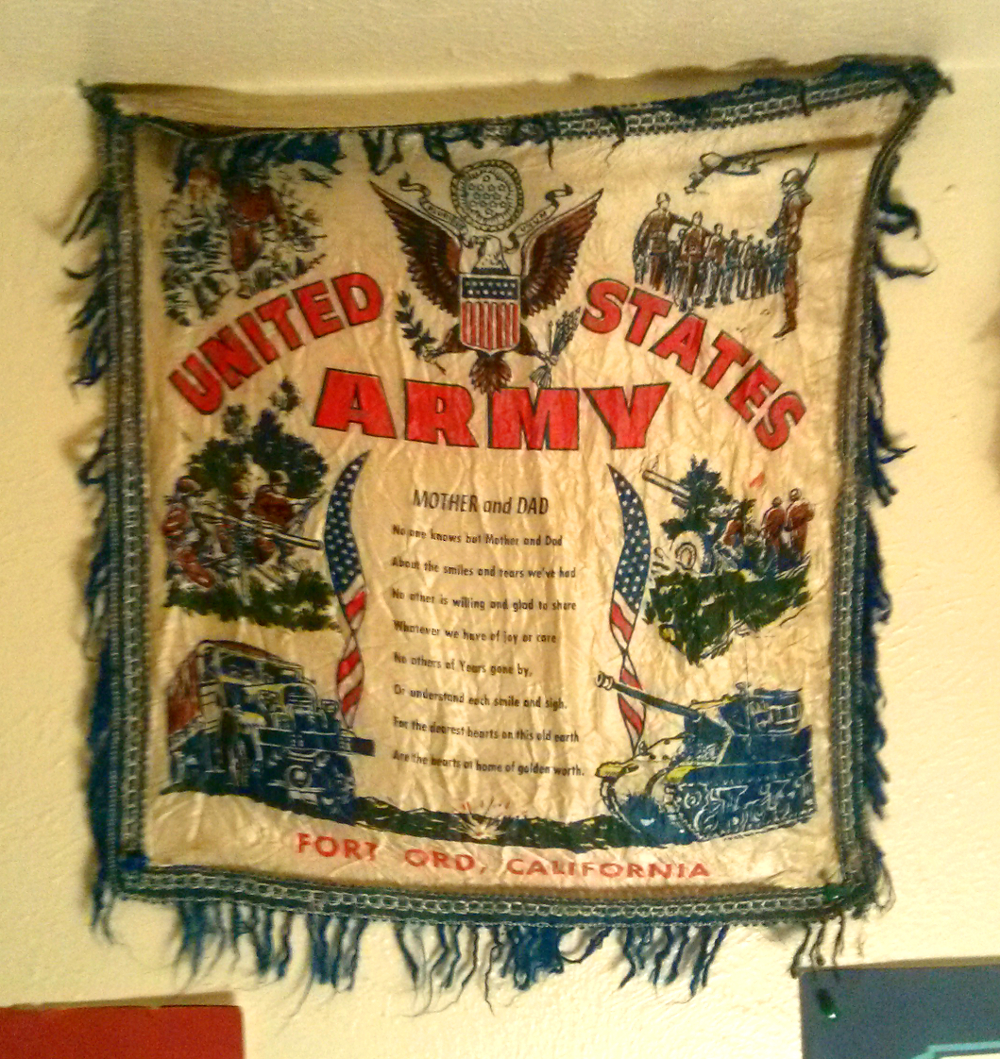 Above:  A cloth from Fort Ord– next to Seaside, California from 1972 when he served in 7th infantry, Alpha Company, 2nd Battalion, 2nd Brigade.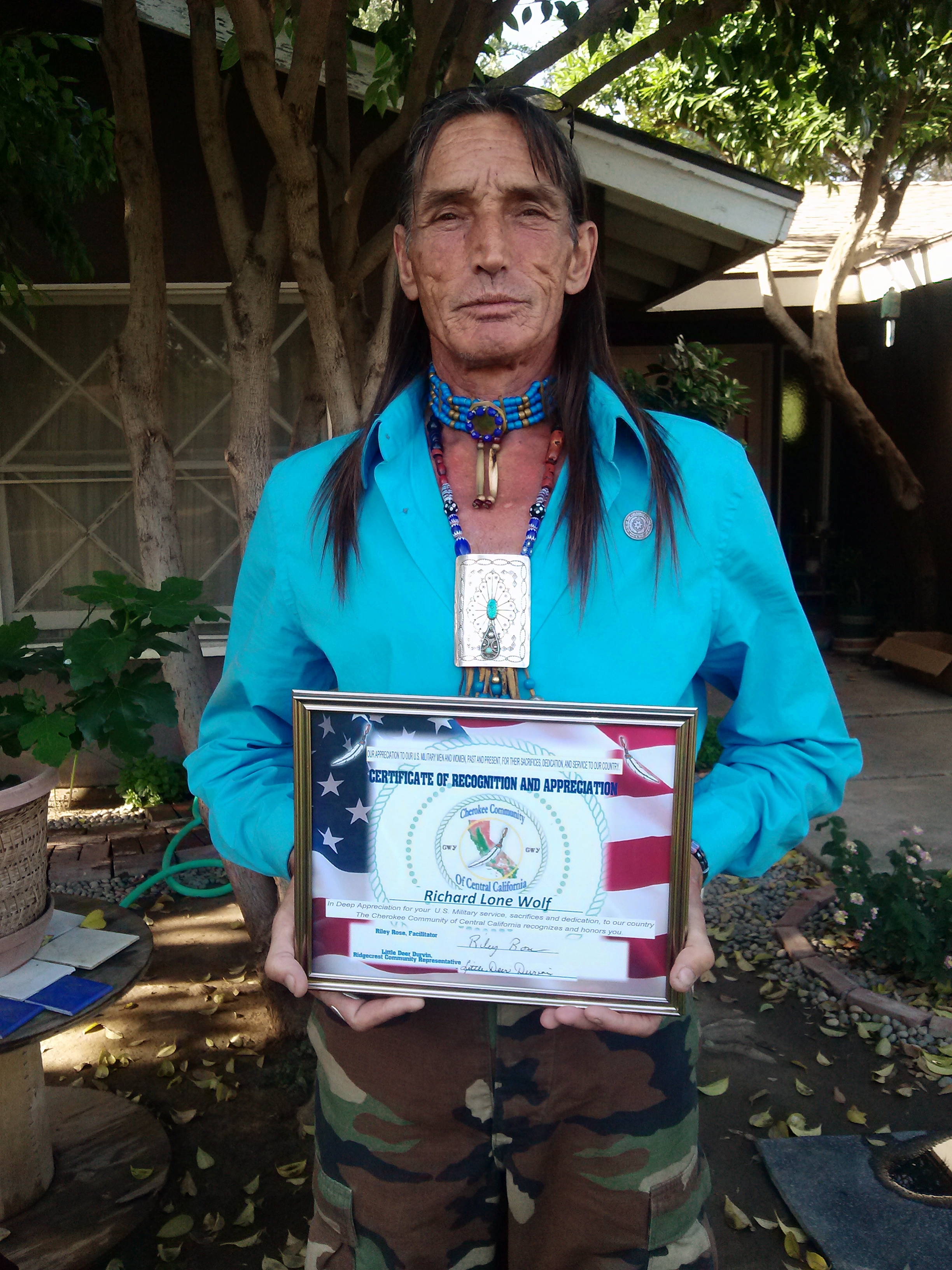 Above:  He has also been recognized by The Tsalagi (Cherokee) Nation as a warrior among the people.  A warrior is someone who stands up for & helps the people.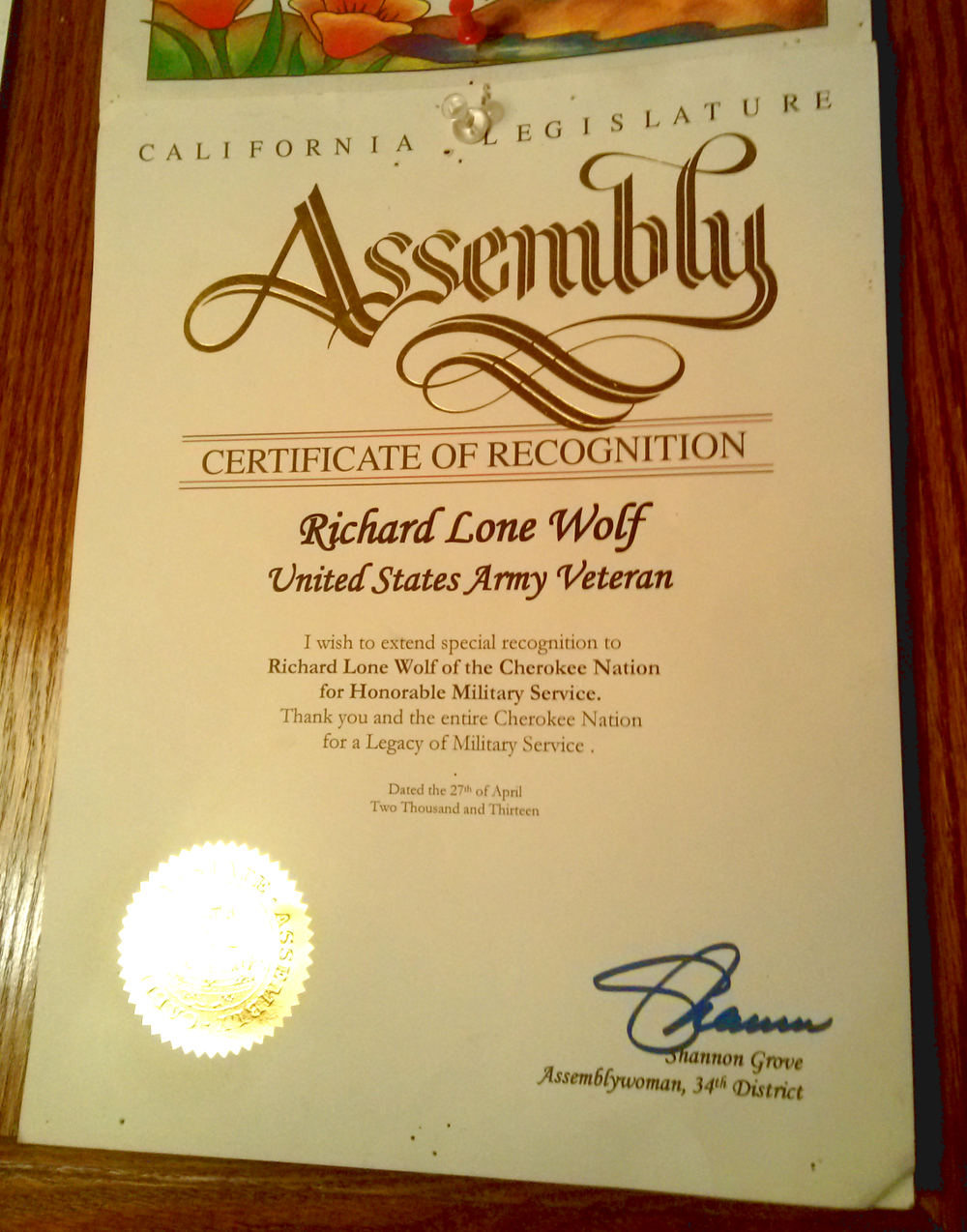 Above:  Recognition from the California State Senate & California State Legislature.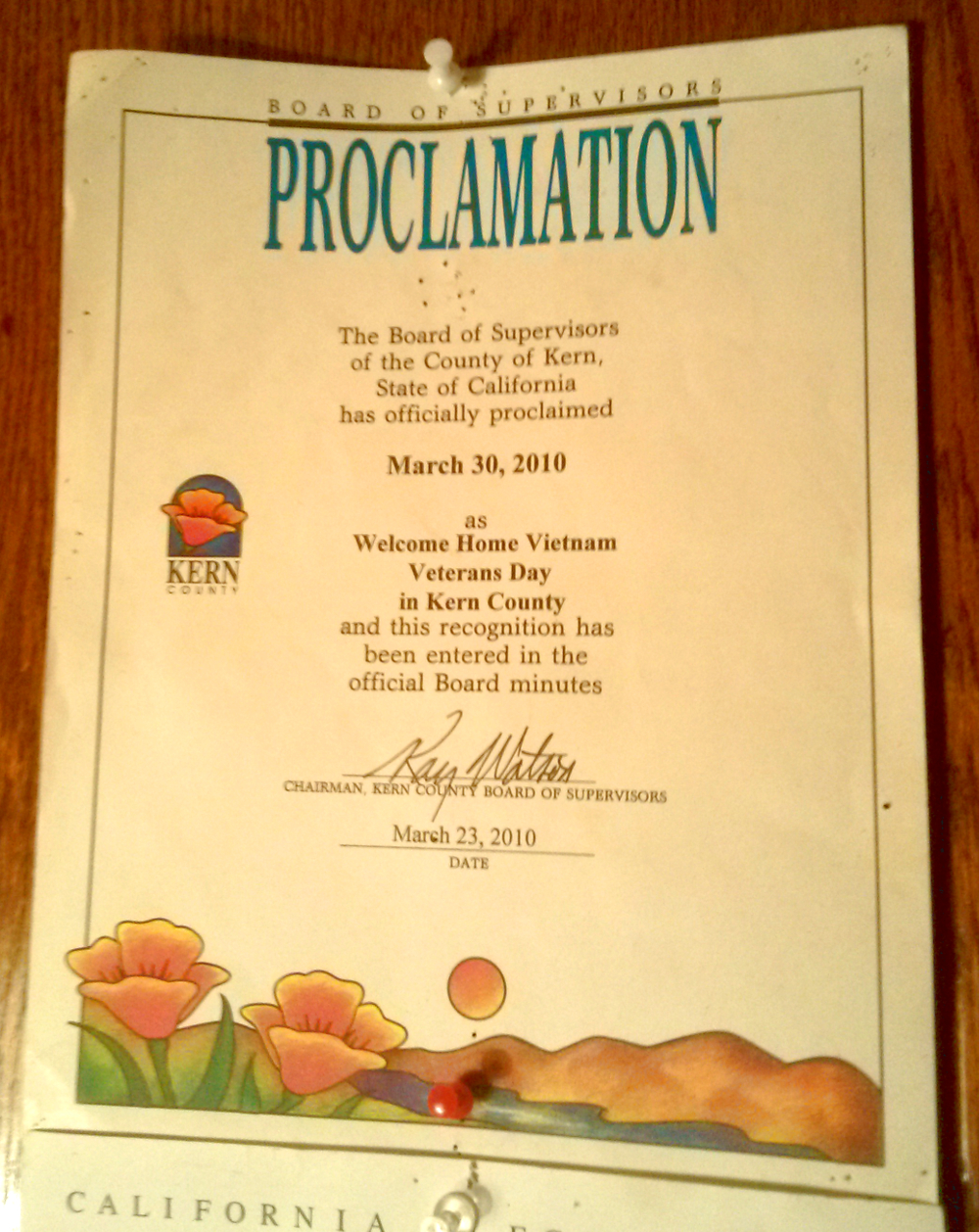 Above:  A proclamation from the Kern County Board of Supervisors recognizing him & honoring his service among other Vietnam War era veterans from all over.  Lonewolf was asked to do the blessing at the Vietnam Memorial Wall in Bakersfield, California for the event in 2010.  Lonewolf wept that day.
   Lonewolf is an ordained minister for the Native American Church, & was invited on stage for the world premiere of "Windtalkers" among the U.S. Honor Guard.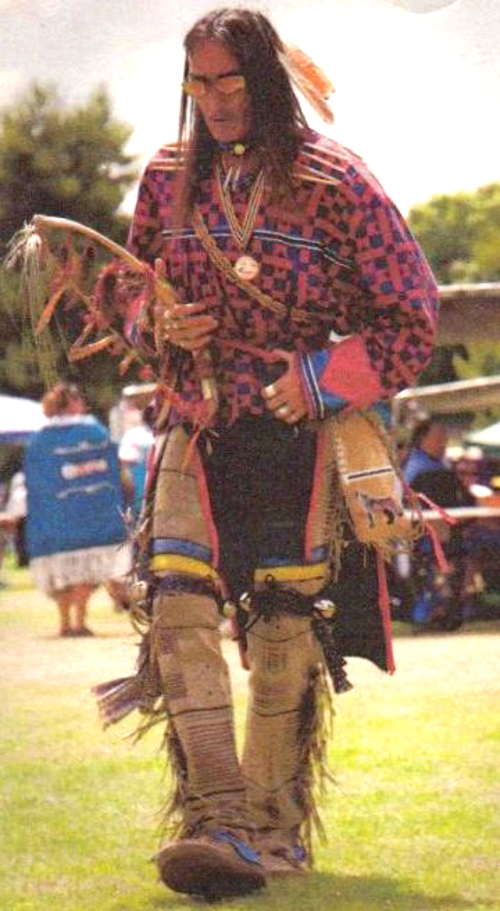 Above:
Lonewolf dancing at the 2009 Standing Bear Pow Wow at Bakersfield College in Bakersfield, California; he's 
wearing elk skin leggings that he tanned & crafted, & holds a buffalo rib with 7 prayer ties, 7 flicker feathers (a flicker is a type of woodpecker which signifies "medicine person" & "healing"), & 4 buffalo hair tufts- all tied with milkweed cordage picked from the wilds.  The hawk feathers were "given" to him at the Kern River where he'd been going since he was a boy.  One day many years ago, he saw hawks & falcons flying along the cliiffs & said, "Ho!  Hawk Brother!  Please drop me a feather so I can honour your nation!"  Then, a red-tail that was circling way above came diving at him & the other traditional dancer.  It killed itself at their feet from the impact, & so he sprinkled it with tobacco, & has worn two of the tail feathers for many years.  "It's all because of faith & belief,"  he says of it.  "Religion divides people & causes wars & death; spirituality brings people together.  Native Americans never had religion; we have spirituality.  Money is not allowed in the Native American church, because they're not going to foreclose on Heaven & God's not broke."
   He has also been the bearer of The Eagle Staff at more than one traditional Pow Wow, considered a great & rare honor.  From Indian Country Today Media Network:  "The Eagle Staff represents the stature & honor of a particular tribe or tribes. It commonly looks like a shepherd's staff & is wrapped in either otter skin or buffalo skin, & exhibits eagle feathers (mainly tail feathers from a golden eagle) that indicate the Akicita honor of that tribe.   Akicita is a Lakota language word for a warrior or leader who has earned distinction through service to the tribe in combat or some other fashion. In the olden days, it was used to also describe a policeman figure amongst the plains tribes. Today, it is used to describe a member of an honor society, or a service veteran. The Eagle Staff is always presented ahead of any other flag, & is more important and meaningful. It was the indicator of a tribe's accomplishments in battle & the integrity & honor of its people."