This section is for booking indoor or outdoor classes or events outside the Kern River Valley 

(KRV)

&

Bakersfield area; to host a class in the KRV, click here.
Very few schools or none have teachers with the
that Richard Lonewolf has earned.  These are no-nonsense skills that will

save

 

peoples

'

lives

.
Prior to Booking a Class:
When planning to host a class or event at a local park or nearby public wilderness area, be sure to coordinate with that forest or park service agency in case a "

Special Use Permit" must to be filed prior to booking.  Permits are often required for hosting private or public commercial 

classes or events

(if there's an entry fee, its considered "commercial")

.  Noncommercial

(free, privately-sponsored and public, or church groups, etc.) events do 

not

 require such permits.  Contact your local forest or park service agency for exact details.  "Proof of permit"

OR

 "a statement from the agency (owner, etc.) where the class/event is being held indicating that no permit is required", as well as a 10% deposit, must be submitted at the time of booking

("purchase")

with Richard Lonewolf Survival School
.
Details, Class Listing, & Prices
Saturday & Sunday, 

OR

 3-day Outdoor Survival Classes; 4-6 hours/day

for 1 to ~16 students
Flat rate; 
$1000/day.

 (averages $63/student per day for a class of 16– that's $10.50/hour per student for 6 hours)

.  Each student will receive a copy of

Richard Lonewolf's Wilderness Survival Manual

, & the host

(person

or

organization booking the class) will

also

receive a personalized, autographed copy of Richard Lonewolf's 180 page, full-color textbook, More Valuable Than Gold.  Class includes

several

 demonstrations: many fire making techniques, handmade hunting tools & essential ancient survival tools  (all made from wild plants & trees, knapped stone), a "tour" of your local wild plants & trees & their edible, medicinal, & utility

(cordage & rope, wax, soap, etc.)

uses, as well as in-depth, experienced explanation of any & all questions the students may have regarding wilderness survival & traditional medicines, & much much more.
2-4 Hour Indoor 

OR

 Outdoor Classes, Demos, & Lectures for 10 or more students; contact [email protected] or 415-798-7457 with an offer & what you have in mind to receive an initial quote.
Free press kit included with each booking:
A downloadable, printable PDF file for an 8 1/2″ x 14 "

(legal size)

flier with tear-away pulltabs will be sent to you at the time of purchase to help you attract customers; your event will 

also

be advertised here on www.RichardLonewolf.com.

A downloadable, printable PDF file for an 18″ x 24″

(full size)

poster

 will

also

 be sent to you at the time of purchase: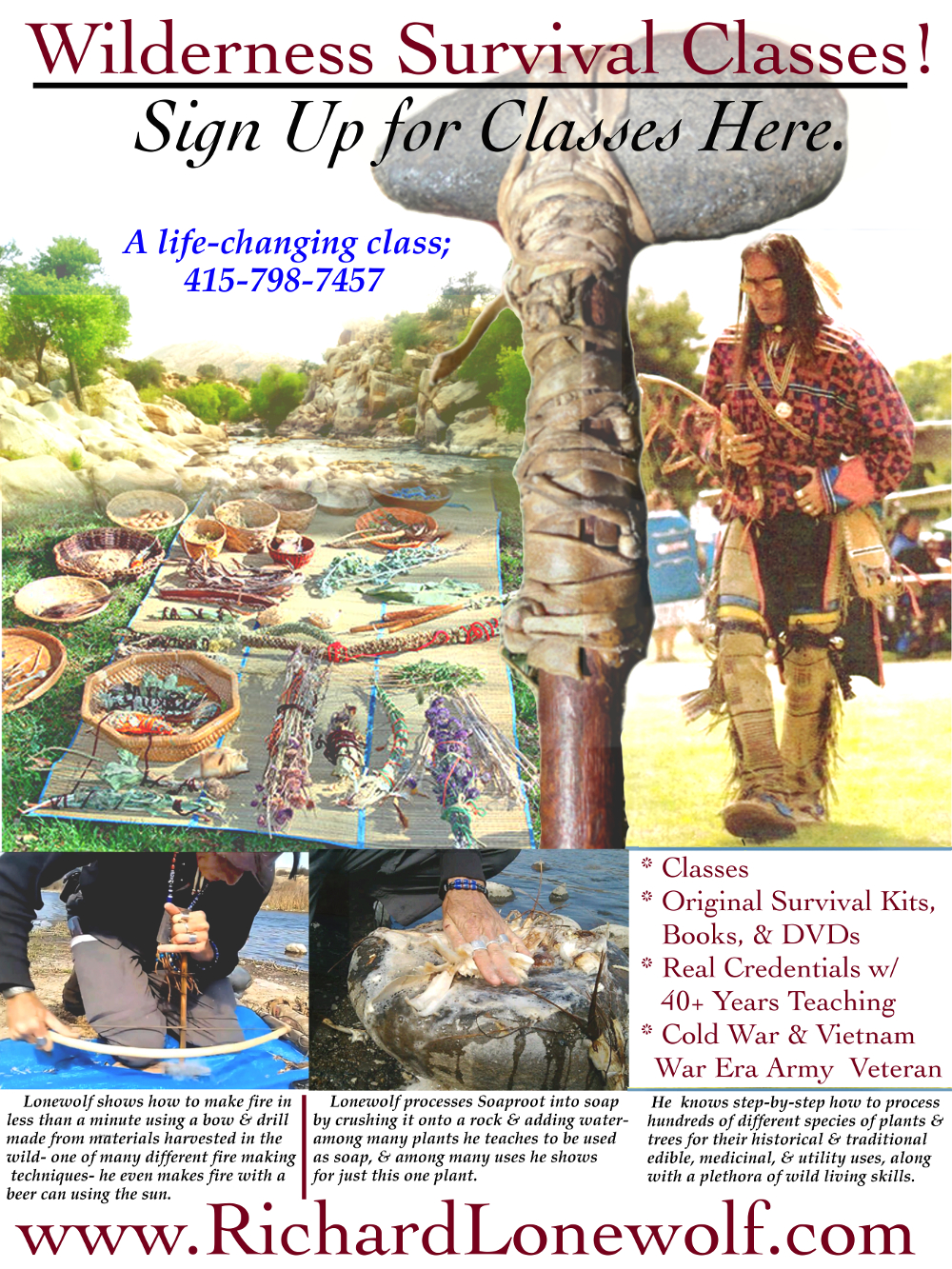 Regarding Filming:
Classes 

may

be filmed by any agency &/or entity working in direct accordance with &/or with permission from Richard Lonewolf Survival School, who will retain non-exclusive,

limited

 & equal rights shared

exclusively

with filming agencies &/or entities, including all footage, without prejudice.  When booking, indicate whether or not your agency/entity intends to film & for what purpose/s your organization(s) would be utilizing such footage for.
We Look Forward to Hearing From You!
For questions or assistance, or to schedule a class or event, contact [email protected]

OR

 call 415-798-7457.
Also Available: