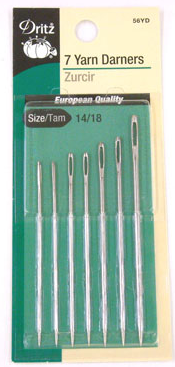 In order to sew leather without the need to use an awl (a much more involved process & takes up more space in your pack), use these particular "yarn darners" rather than leather needles (oddly enough).  Yep-

they're made for yarn, but they work better than most leather needles (more sturdy than

Tandy leather needles).
   

Use the pliers on your

Swisschamp 

to pull the needle out the other side once its been started through the leather; these needles by Dritz work very well- 

many other brands have rounded tips or eyes that are wider than the stem & thus break when sewing leather; these are the ones to get.  Don't forget the

simulated sinew!
please set some widgets to show from Appearance -> Widgets.